We, who are the owners of this Kennel, are called Karin & Britt-Marie (daughter and mother). Got our first Cocker in '83, a then seven-year-old male called "Tim". A couple of years later he was followed by three bitches and a male "Sessan,Suss & Fia" from the Atacama's Kennel and Knappen.

In 1992 we applied for our kennel affix as well as importing the Scottish-bred Rocket Cascade (see picture on right) who can be found in the pedigrees of all our current bitches.

At present we have seven adult dogs at home and co own a few more, both dogs and bitches. We conduct small select breeding with 1-3 litters a year in the nice cosy home environment which we deem most suitable for our puppies. Our aim is to breed sound, healthy and above all merry Cockers.

We are mainly interested in showing our dogs.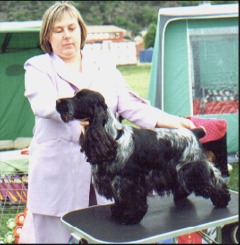 Karin with the kennels pride Backhills Doris Day
Junior of the Year 1999
Cocker Of The Year 2005
Veteran Of The Year 2007
Swedish, Norwegian & Danish Show Champion
Swedish Winner 2003 & 2007 & Nordic Winner 2003


|Startpage|Backhill's Kennel|Our Dogs|Puppies|News|Our first Cockers|
|Growing|Photogallery|Top 20|Cockers of the year|Award|Guestbook|Links|
Copyright © 2000 Rose-Marie Halse ~ Updated: 26 december 2011