VDHCH Backhill's Fabulous Night And Day "Marco"
Born:2000-11-07 Colour: blue roan
hip certificate: A , eyes clear
"Marco" is a litter brother to B. Farah Diba and B. For A One's Only
and he is owned by Karl & Marianne Isbosethsen, Kennel Iskama in Denmark.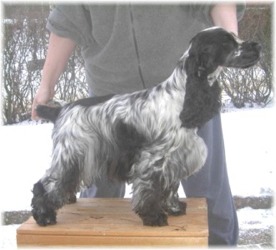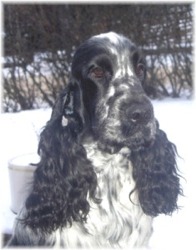 Marco 2 years old
26 April at Erfurt international Show in Germany.
Marco gained another VDH Anwartschaft & R-Cacib.
Judge: Horst Kliebenstein. Germany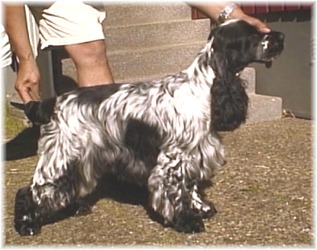 18 months
27 October VDH Hannover Int.
Judge: Elke Peper
Marco won Best Dog/VDC-Anw/CACIB & Siegeranwartschaft
"In sehr guter Kondition präsentierter Rüde. Typischer Kopf, korrekte obere Linie,
korrekte Winkelungen, genügend Substanz, korrektes Haar,
freies parallelles Gangwerk."
26 October at Jagdspaniel-Club
Judge: Renate Wulff
Marco won Vorzüglich 1. Anw. Dt. Ch. (VDH)
"Gut aufgebauter, in grösstem rahmen stehender blauschimmel,
maksuliner kopf mit gutem auge und ausdruck, sehr gute winkelungen
knoschen und pfoten, gut gewölbter brustkopb und richtige vorbrust, fröhliche
bewegung, in der ich den rücken fester wünschte, schönes seidiges haar,
typisches wesen"
25 August at Jagdspaniel-Klub.in Hamburg.
Marco gained his 2nd VDH Anwartschaft
Judge:Henny Kappetijn. Germany
Quadratischer Blauschimmel in guter Grösse, sehr gut geschnittener kopf,
sehr schöne halslänge, gute winkelungen, brustkorb gut ausgeformt, sehr
schöne obere linie im stand. In der korrekten bewegung mit sehr guter
rutenhaltung und viel -spiel sollte der rücken noch etwas fester bleiben.
Sehr gutes haar.
Vorzüglich 1. Anw. Dt. Ch. (VDH)

3 August at Spaniel-club in Soltau,Germany he gained his
first VDH Anwartschaft
Judge: Theo Leenen from Belgium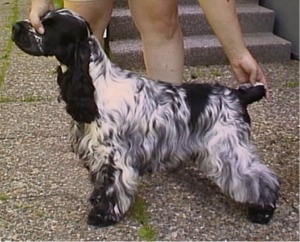 Marco 8 ½ month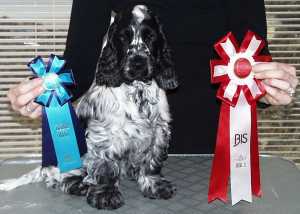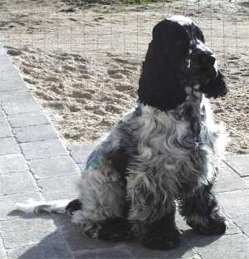 "Marco" 5 month
~ Best Puppy In Show ~
28 July SKK Int. Ransäter ,Sweden
Breedjudge: Svein Helgesen,Norge , BIS Judge: Wenche Eikeseth, Norge
Marco went BIS again!!
Congratulations to Marco and his owners!!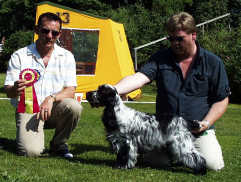 "Marco" shown by Rune Johansen, Kennel Timanka

VDH Neumünster (Tyskland) May 26:th Judge:Renate Wulff (D).
VV Vielversprechend (very promising)
Gut aufgebauter blauskimmel mit bestechendem temperament, sehr gute winkelungen und
schon gute tiefe, edler kopf mit sehr gutem auge und ausdruck, fröhliche bewegung mit sehr
viel schub aus der hinterhand, sehr gut haarqualitet.

~ Best Puppy In Show-3 ~
5th May Spanielklub Region 3, Judge: Randi Hjorthøj (DK)
"Marco" (6 month) was BOB-Puppy and later on Best Puppy In Show-3

~ Best Puppy In Show ~
Kopenhagen 18 february, Judge: Lotte Jørgensen (DK).
Spanielclub. Region2, Denmark
Backhill's Fabulous Night And Day has entered his first show only three month old and
with very god results as Best Puppy In Show!!! A big congratulations to his owners
Karl & Marianne Isbosethsen, Kennel Iskama.

Pedigree:


|Startpage|Backhill's Kennel|Our Dogs|Puppies|News|Our first Cockers|
|Growing|Photogallery|Top 20|Cockers of the year|Award|Guestbook|Links|
Copyright © 2000 Rose-Marie Halse ~ Updated: 26 december 2011